19th Century
It is recorded that a basic trampoline-type piece of apparatus was invented in the 19th century by a French neurologist to provide therapy for brain injured children. He named the apparatus the "Trampolino". ("The Diagnosis and Treatment of Speech and Reading Problems - Carl H. Delacato -1963).

The folding sports trampoline with which everyone is familiar was invented by George Nissen in the 1930s. (Wikipedia)
1972 - 1979
Eddy Anderson; Remedial Gymnast and teacher, then deputy headteacher (Leeds Education Authority) introduced Rebound Therapy and began the development of staff training courses.
1979 - 1990
As headteacher in Cleveland LEA at Springwell School (age range 2 - 19) and finally at Catcote School (age range 11 - 19) Eddy Anderson developed Rebound Therapy as a staff development unit course. During this phase, recorded reports were generated by the Sports Council, and the Schools Council. Interest was shown by the Chartered Society of Physiotherapists. Liaison with the British Trampoline Federation was ongoing. Original tutor training courses for CSP and BTF were provided by Eddy.
1993
Eddy retired from teaching full time to set up his own consultancy. In March 1993 Eddy was awarded the Toshiba "Year of Invention" award in the small business section for his hydrotherapy floatation device. Originally named Float Station, this product is now manufactured and marketed by Gym-Tech.com under the name of Sensafloat. "This invention was the result of continual search for movement facilitators for students with severe and profound disabilities".
1998
Eddy Anderson formed partnership with Youth Sports Trust to co-produce the "Elements" programme of movement for people with disabilities. Workshops provided nationally.
2006
Eddy Anderson joined forces with pioneer disability sports coaches and founders of the Saturn V association of gymnastic and trampolining clubs, Paul and Shirley Kaye. They formed the 'ReboundTherapy.org' website and consultancy.
2008
ReboundTherapy.org courses and resources awarded approved status by the Professional Development Board for Physical Education - a division of afPE - The Association for Physical Education.
2009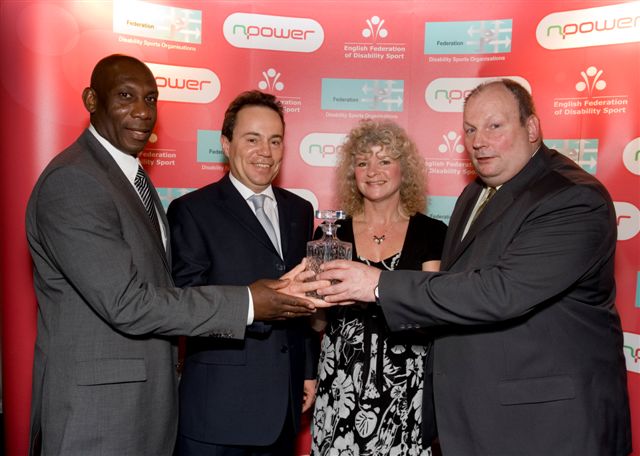 Awarded npower "Community Award" for services to disability sport, at the Federation of Disability Sports Organisations' annual sports award event:

Eddy Anderson, Paul Kaye and Shirley Kaye from 'ReboundTherapy.org' were invited to attend the Federation of Disability Sports annual sports awards event which was held at Leeds United football club on 20th March 2009.

We are very pleased and honoured to tell you that we were presented with the 'npower Community Award' for services to disability sport. The presentation was made by well known football referee Uriah Rennie (far left) on behalf of the Federation of Disability Sports Organisations and George Bloom (far right) from npower.

The award was an engraved crystal decanter which Paul and Shirley collected and will be kept by Eddy in recognition of his 35 years tireless work in the development and provision of Rebound Therapy training courses.
2009
Awarded corporate affiliation to the CPD Institute.
2010
Rebound Therapy introduced into Australia and working partnership formed with Gymnastics Australia and GNSW; the New South Wales, Australia governing body for gymnastics.
2010
Partnership working arrangement formed with the English Federation of Disability Sport
(now Activity Alliance).


Rebound Therapy Institute formed.
2011
National SEN trampoline competition and celebration framework introduced
2012
Course qualification accepted for membership of NASC (National Association of Sports Coaches)
2014
Rebound Therapy introduced into Canada and working partnership formed with 'Reflective Bounce' in Alberta
2016
Rebound Therapy International formed to provide opportunities for training worldwide.
2018
Flexi-Bounce Therapy launched, using an orthopaedic quality rebounder to provide therapeutic exercise as a complement to Rebound Therapy sessions.
2019
Rebound Therapy training courses introduced into the USA.

Partnership formed with International Association of Trampoline Parks.

Rebound Therapy training course accredited by South African Society of Physiotherapy and US Federation of State Boards of Physical Therapy.
2020
Rebound Therapy 'Centre of Excellence' accreditation launched.
This award is presented to schools, centres, clubs, trampoline parks and other venues which have met a set of standards that demonstrate consistently high quality in their service and provision of Rebound Therapy.
2021
Brain Stimulation online CPD add-on training course launched for Rebound Therapy Practitioners,
Flexi-Bounce Therapy Practitioners and Trampoline Coaches.
2022
Rebound Therapy engaged by Gymnastic Britannia to provide the first two courses (Rebound Therapy and Rebound Plus) in their pathway to recreational trampoline coach training.